Condensation Management in Wheelhouses
Yetti Fish Houses are designed for recreational use and short-term occupancy, year-round. When using a Yetti year-round extreme weather conditions are often faced; users may need to take additional steps to manage and mitigate things such as condensation and high humidity within the unit. Simple things like the number of people in your house and how often the door is opened can even have an impact. Note condensation issues or damage caused by condensation are not covered under warranty.
Condensation is a topic most fish house and RV manufacturers hide on page 98 of a 100-page manual. We have a different approach and want to make sure our customers are informed and educated on how to handle it. The reality is, in a stick-built fish house/RV you may not even notice the issue as the moisture hides in wood walls and fiberglass insulation. Our unique aluminum frame construction with solid core foam insulation doesn't create many places for condensation to hide and therefore it may be more noticeable by eye.
What is Condensation? Condensation is the change of water from its gaseous form (water vapor) into liquid water. Just as moisture collects on the outside of a glass of cold water during humid weather, moisture can collect on the inside surfaces of a Yetti. This condition is increased due to the small volume of space, airtight construction, and extreme weather use. It most often appears in areas where good insulation is difficult and areas with limited airflow.
As the manufacturer, we are continuously improving our construction methods to limit condensation that may occur. See how in our craftsmanship section.
As the owner, you play an important role in managing and mitigating condensation.
What are signs?
Indoor relative humidity over 60% (ideally between 30 and 50%)

Relative humidity can be measured with a moisture or humidity meter

Moisture forming on windows
Dripping from ceiling A/C unit/bath vent fan
Damp wood or dripping water
Frost forming in areas with limited airflow (inside cabinets/storage spaces)
Frost forming around door/door latch freezing
How to mitigate it so it doesn't cause problems?
General

Create airflow

Open a window or two

Note this only works if the humidity is lower outside

Run the bathroom fan that's externally vented
Run the microwave vent fan (most effective if externally vented)
Utilize ceiling fans, vent fans, or add-on fans

In cold weather do not run the A/C fan to reduce condensation, it will have the opposite effect

Run a dehumidifier
Use a moisture absorber
In the summer months run the A/C

Cooking

Always run the microwave vent fan when generating moisture in the kitchen
Try using the microwave oven instead of the stovetop to boil water or soups for long periods

Showering

Always use the bathroom vent fan when showering
After using the shower wipe down the shower walls to prevent water evaporation

Be sure to wring out rags outside

Storage spaces

Open cabinet doors and spread-out storage spaces that are packed full of stuff

It's a good practice to do this each night, limiting disruption of daytime use/activities

If drying wet clothing, hang in the bathroom with the fan running so the moisture has an escape
Keep the house dry

Mop up water from the floor
Wipe down wet surfaces after use
Be sure there are no obstructions in any vents and that all vents are properly sealed.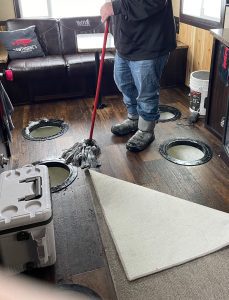 After use, it is important to air out the unit prior to storage. This can include:
Keep the heat on and maintain condensation mitigation suggestions until the house is dry
Empty the refrigerator and freezer – dry them out completely
Dry the inside of the shower and sinks
Check for any leaks at the kitchen sink, toilet, and bathroom sink.
While storing it's a good idea to check the unit periodically to ensure there are no signs of condensation (key signs identified above).
Warnings and Notices
Condensation can infiltrate the insulation, motors, and working parts of appliances or plumbing pipes to name a few. Even though you may not see condensation, it may be inside the walls, cupboards, or under the floor, so it is best to take every precaution to avoid it occurring. Generally, an area that is dark, and where moisture can accumulate, is the most likely spot for mold to grow.



---
Failure to properly maintain and service your Voyager equipment may result in personal injury and may void any manufacturer warranties. Please contact your local dealer with any service, maintenance, or warranty questions.
Follow Yetti Outdoors On Facebook: Yetti Outdoors Facebook
Follow Yetti Outdoors On Youtube: Yetti Outdoors Youtube
Follow Yetti Outdoors On Instagram: Yetti Outdoors Instagram